Too often I hear we need more young people in aviation. 
My typical response is we need more people in aviation. Not just young people.
Maybe we are looking in the wrong places. 
If you restrict your search for "young 'uns" to SUN 'n FUN and EAA AirVenture Oshkosh, you are likely to be disappointed. 
On the other hand, if you walk into a Teen Flight hangar, or the Lakeland Aero Club, or the Aspiring Aviators club, or any of the dozens of universities with flight schools, or any of the accelerated flight training programs sprinkled around the country, you'll likely wonder where the gray hairs are.
The FAA's U.S. Civil Airmen Statistics is an annual study published to meet the demands of the FAA, other government agencies, and industry. It contains detailed airmen statistics not published in other FAA reports.
Would you look at that. The tallest bars (each over 75,000 pilots) are in the 20-24, 25-29, and 30-34 age ranges and total 242,165.
That represents 33% of the 720,603 charted.
No doubt, astute readers will tell me the FAA changed the rules in 2010 when they increased the duration a student pilot certificate is valid (from 36 to 60 months) for those under 40.
And then, for student pilot certificates issued in April 2016 and later there is no expiration date.
The number of student pilots in 2016 was 122,729. By end of 2021 that number had swollen to 250,197. And every additional student pilot certificate will forever increase the number of student pilots and make it harder to determine the actual number of active pilots.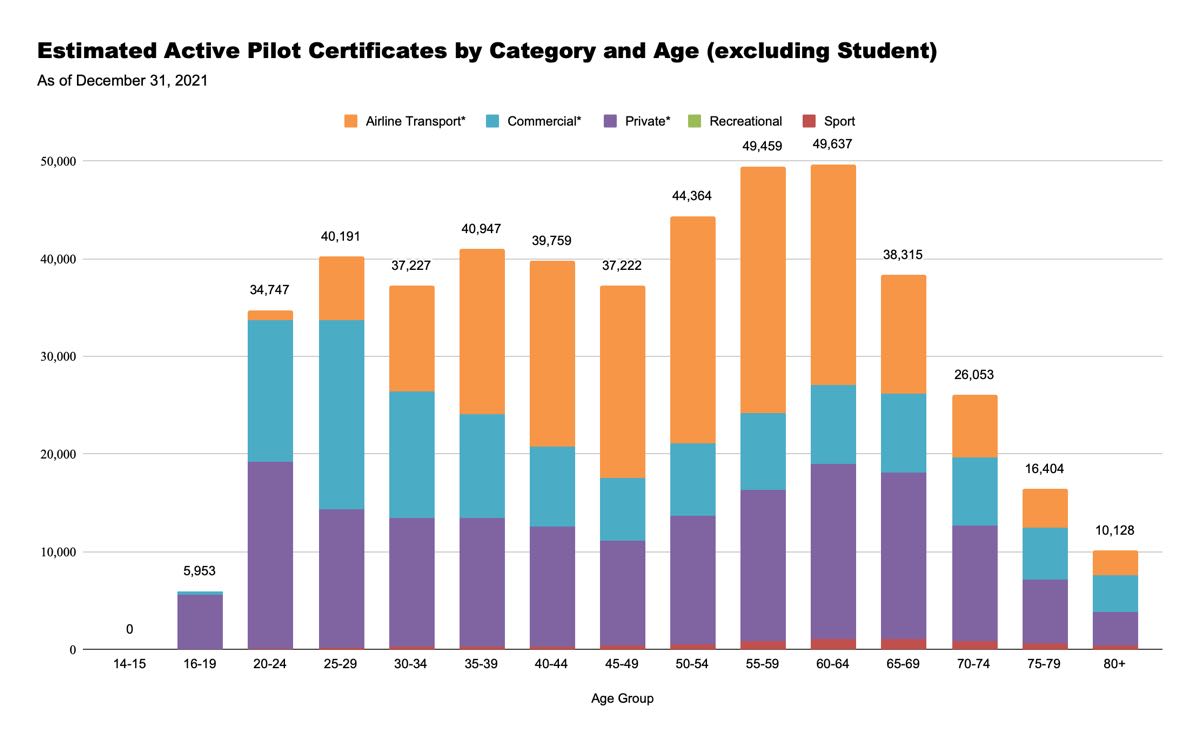 When I exclude student pilots, the data shows the 50-54, 55-59, and 60-64 age groups as the most populated. 
For age groups 40 and older, airline transport pilots make up roughly half of each age group. Those are the working pilots — most likely flying for Part 121 carriers and corporate aviation.
I'm heartened to see the purple and teal sections of the columns tallest on the left side of the chart. 
We have a good amount of younger pilots. Maybe they just don't hang out at SUN 'n FUN and AirVenture.